NRF Protect: Solving Retail's Biggest Challenges with Pitaya.AI
Last week was an incredible experience for me and the Centific Team as we attended the NRF Protect Conference in Dallas, the retail industry's flagship event. This year's theme was asset protection, a pressing concern that clearly affirmed the market's need for innovative solutions. We had the privilege to network with a diverse array of professionals across different roles and retail segments: loss prevention investigators, asset protection leaders, retail operations executives, and retail directors. Engaging with these experts gave us profound insights into the current environment within the sector.
Retailers are Facing Significant Hurdles That Will Cost Billions
In today's dynamic retail landscape, staying ahead of the curve is no easy task. I heard this many times at the event while chatting with attendees. Retailers face a multitude of challenges that demand strategic thinking and innovative solutions. From organized retail crime (ORC) and fraud to cyber-attacks, these issues underscored the urgency for retailers to stay proactive in safeguarding their customers' data, ensuring the welfare of their customers and employees, and protecting their physical assets.
In addition, the retail industry is currently facing a staggering increase in shrinkage, which amounts to almost $100 billion according to the National Retail Federation. Additionally, labor shortage issues are becoming more prevalent, with a record 75.8% turnover rate reported by Korn Ferry. These challenges are putting immense pressure on retailers to maintain a healthy bottom line while delivering exceptional customer experiences.
Industry Experts Weigh in on Technology Applications for Retailers
All of these growing threats were focus areas discussed at the BIG IDEAS session at NRF Protect with a distinguished panel of experts, which included Rick Herrera from Microsoft, Ryan Hatfield from Lexmark, Tony Winkelman from Wren Solutions and my colleague Jagadish Garimella who heads up the Consumer Vertical at Centific. The compelling discussion revolved around the theme, "How best-in-class retailers are leveraging Generative AI and Computer Vision to supercharge their retail operations and protect their bottom line." More specifically, the conversation delved into the application of AI and the latest large language models (LLMs) to enhance asset protection, workplace safety, in-store operations, empower store associates, and optimize costs.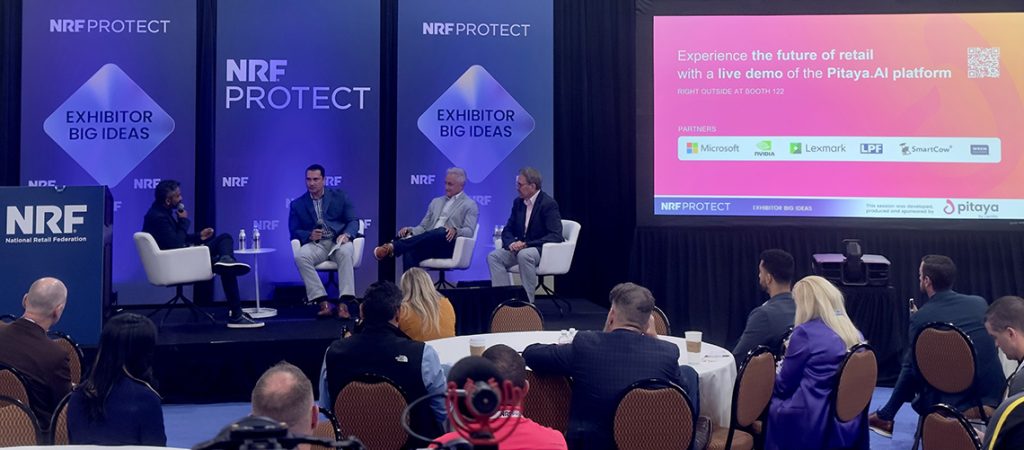 Despite the challenges, there are immense opportunities for retailers who can navigate the complexities of the industry. By embracing innovation, customer-centricity, and strategic decision-making, retailers can thrive and meet the ever-evolving needs and expectations of today's consumers. Those who adapt to the changing landscape, leverage technology effectively, and prioritize exceptional customer experiences will be well-positioned for success in the ever-evolving retail market.
Pitaya.AI Launched at NRF Protect to Help Retailers Increase ROI
At Centific, we understand what retailers require to be competitive and that is why we launched Pitaya.AI to help them revolutionize the way they do business. One of the defining moments of our presence at NRF Protect was the launch of Pitaya.AI, a Software as a Service (SaaS) platform for retailers that provides a suite of Intelligent store solutions, marked by a ceremonial ribbon cutting. Pitaya.AI was met with an overwhelmingly positive response from attendees.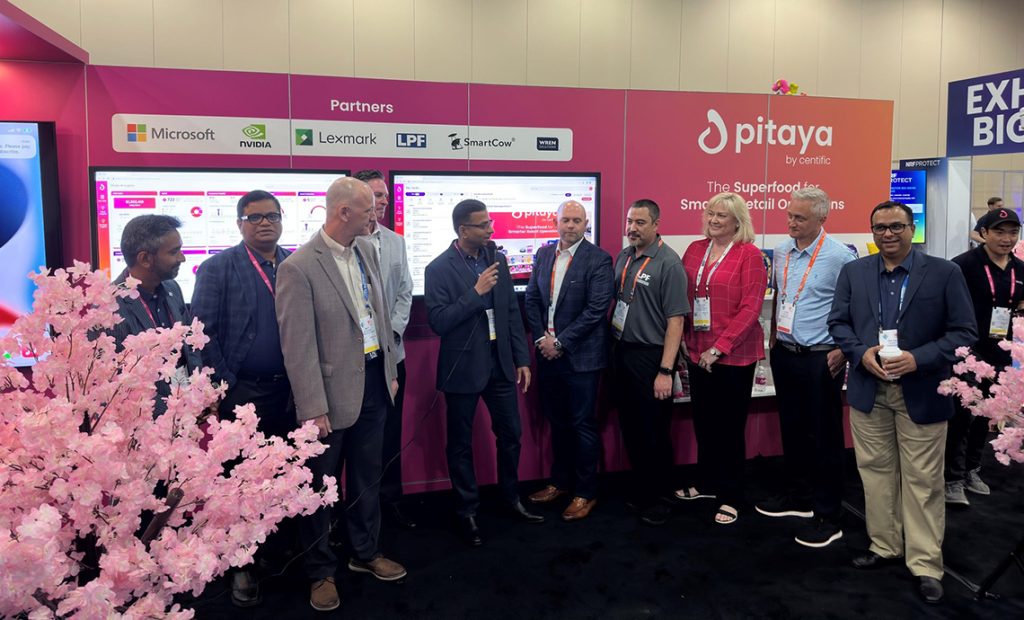 Pitaya.AI can be specifically tailored to each subsegment of retail (C-store/convenience, big merchandising, grocers, DIY retail). Each use case we cover means something different for each type of retailer when you apply them. Pitaya.AI specializes in this. It defines clear paths to ROI, leverages the power of AI to address common challenges faced by retailers, such as shrinkage, workplace safety, stockouts, and lack of customer behavior visibility. And it requires minimal capital expenditure because it leverages a preexisting setup and cameras. It delivers Computer Vision AI solutions on the edge that provide enterprise-class security and data privacy without compromising performance and enabling rapid deployment at scale.
Smarter Retail Operations, Enhanced Productivity, and Reduced Losses
With Pitaya.AI, you can unlock significant value for your revenue, profitability, customer satisfaction, and employee experiences. By harnessing the power of robust capabilities and partnerships with industry leaders like NVIDIA Edge AI, Microsoft Azure Cloud, and OpenAI, Pitaya.AI aims to transform the shopping experience, enhance associate productivity, and substantially reduce losses due to shrinkage.
Say goodbye to challenges like shrinkage, workplace safety issues, stockouts, and limited customer behavior visibility. With Pitaya.AI, you can transform your retail operations, enhance productivity, and significantly reduce losses. Get ready to take your retail to the next level and provide exceptional experiences for your customers.